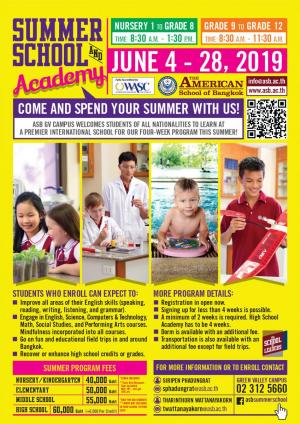 The American School of Bangkok Green Valley Campus is pleased to welcome you to our 2019 ASB Summer School and Academy Program.
During the ASB Summer School and Academy Program, students will have access to many unique educational opportunities, including:
Improve all areas of English language skills (speaking, reading, writing, listening, and grammar).
Engage in English, Science, Computers & Technology, Math, Social Studies, and Fine Arts courses. Mindfulness to be incorporated into all courses.
Go on fun and educational field trips in and around Bangkok (Elementary through Middle School).
Work toward recovering missing credits for graduation or improving GPA in core subjects*
*Existing ASB Grade 9-12 students only.
The ASB Summer Program will be an action-packed, fun, and educational summer experience, featuring sports, field trips, literacy-based academic learning, group projects, team building, mindfulness and much more. This four-week program will begin on Tuesday, June 4, 2019 and end on Friday, June 28, 2019. School hours are from 8:30 a.m. to 1:30 p.m. and the Summer Academy Program will be from 8:30 a.m. to 11:30 a.m. So come learn with us in this exciting educational opportunity at the 2019 ASB Summer School and Academy Program
Contact the admissions office to enroll now!
For additional inquiries, you may also contact our Summer Program Coordinator, Ms. Liwen Lai (Shira) at llai@asb.ac.th