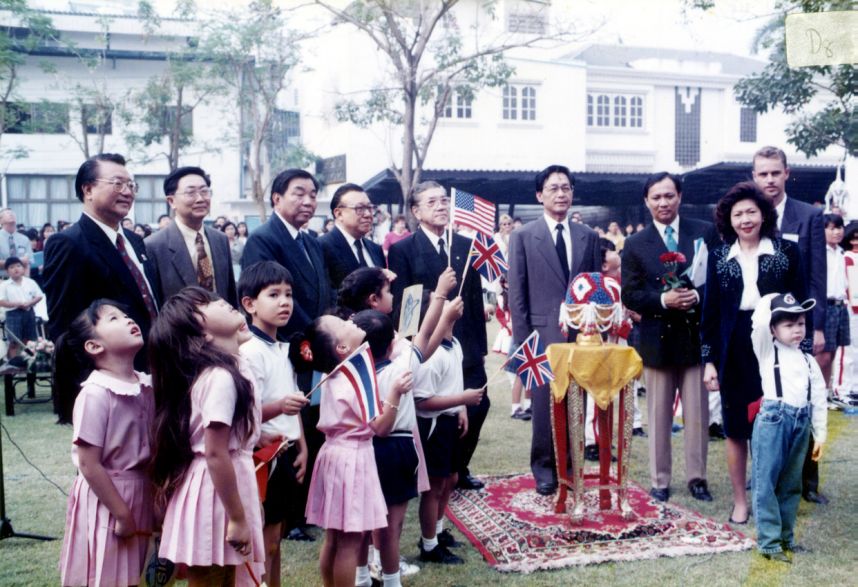 The American School of Bangkok was founded in 1983 as a kindergarten. It was originally called Didyasarin International Kindergarten. "Didyasarin" was the family of Mrs. Lakhana Tavedikul, the founder, owner, and Director of the school. Education has been a cherished profession of the Didyasarin family for three generations. The name itself, apart from the fact that it was so graciously bestowed by His Majesty King Rama VI, seems to suggest that the members of this family are destined to be educators. "Didya + Sarin" means "The Goddess (Sarin) of Creation (Didya)" in the Thai language. It is therefore most fitting and appropriate that Didyasarin is deeply engaged in the noble mission of creating good men and women for the future from its students who are attending this school.
Through her marriage to Dr. Suseri (Prachya Davi) Tavedikul (also the founder, owner of the school), Mrs. Tavedikul entered the arena of foreign affairs and international diplomacy. Dr. Tavedikul's father was Ambassador to Japan from Thailand and the Minister of Finance for Thailand. His son, Dr. Tavedikul, had continued in this vocation, as Thai Ambassador to the Netherlands (1996-2000). Their international school is the perfect culmination of their life-long devotion to education and international affairs.
After Didyasarin International Kindergarten was established in 1983, it became one of the top kindergartens in Thailand not long after. Many parents did not want to send their children to a new school upon graduation and had asked Dr. and Mrs. Tavedikul to expand the school. That became a reality in 1995 when the school received a license from the Ministry of Education and was renamed Didyasarin International School. The school's population increased dramatically. The Sukhumvit campus expanded its territory with the capacity for 500 students, serving from pre-kindergarten up to middle school while a new campus on Bangna-Trad Road was being built. In 1997 the Bangna campus was completed. It opened with the capacity for 2,000 students from pre-kindergarten up to high school.  The name was changed to ASB Green Valley Campus in 2011.
The school became a member of the East Asia Regional Committee of Overseas Schools (EARCOS) and received accreditation from the Western Association of Schools and Colleges (WASC) in the year 2000. As the school received more and more recognition from the international realm and had a larger international student body, the founders of the school felt that a change was needed. Beginning in the 2000-2001 academic year, the school was renamed The American School of Bangkok. This change had been necessitated by the fact that the school is using the American curriculum and with the emphasis on the international perspective, this makes it more fitting that the change be made. Today The American School of Bangkok is recognized as one of the top international schools in Thailand as it strives forward to improve its quality for the purpose of educating its students and creating good men and women for the future.