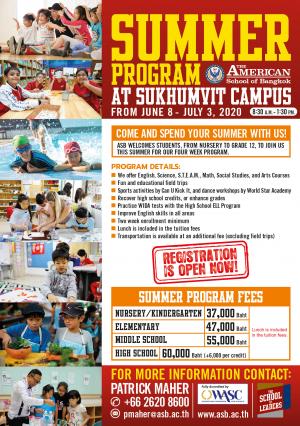 The American School of Bangkok Sukhumvit Campus is pleased to announce a fun-filled summer program at Sukhumvit Campus, featuring literacy-based academic learning, group projects, team building, sports, dance workshops, and field trips.
The summer program is open to students of all nationalities from Nursery to Grade 12. This four-week program will begin on Monday, June 8 and end on Friday, July 3, 2020. School hours are from 8:30 a.m. to 1:30 p.m. Lunch in included in the tuition fees and transportation is available, at an additional cost.
Our summer program offers:
English, Science, S.T.E.A.M., Math, Social Studies, and Arts Courses
Fun and educational field trips
Sports activities by Can u Kick It
Dance workshops by World Star Academy
Opportunities for ASB high school students to recover academic credits, or enhance their grades
Students are eligible to join the ASB High School ELL program, where practice WIDA tests will be administered
An academic performing arts showcase will be held at the end of the program
The ASB Summer Program will be an action-packed time for all of our participating students. If you're interested in learning with us, contact the admissions office to enroll now!
For additional information about the program, please contact Mr. Patrick Maher, the Head of Admissions at pmaher@asb.ac.th