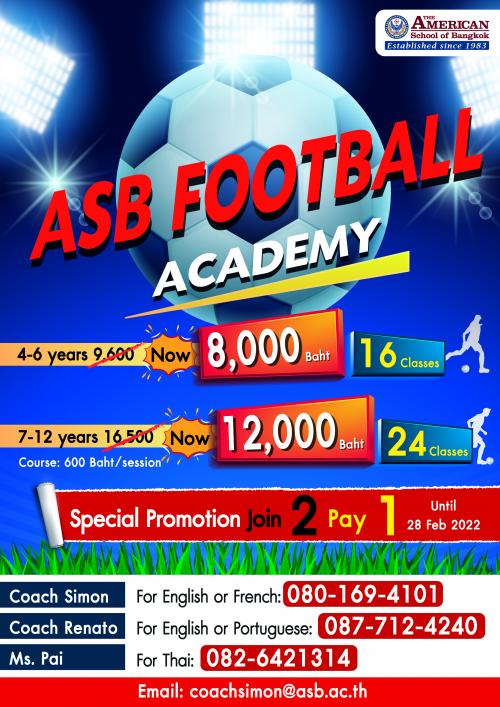 The American School of Bangkok is pleased to introduce the ASB Football Academy for the Sukhumvit Campus, which consists of training by the professional soccer coaches.
The ASB Football Academy is offering football training sessions on campus during the week (after-school hours) and on Saturday mornings. These sessions consist of technical and fun football training and friendly games among players. The football training sessions will be conducted under strict COVID-19 guidelines and regulations (including administering and submission of results of antigen testing by all participants prior to coming on campus for training).  
The training is commencing this Saturday, February 5th, 2022. 
Boys and girls ages 4-12 years old are welcome to join these sessions. If your child(ren) are interested to join the training sessions offered by the ASB Football Academy, please call the following numbers for more information and/or to register:
Coach Simon (For English or French)

: 080-169-4101

Coach Renato (For English or Portuguese):

087-712-4240

Ms. Pai (For Thai):

082-642-1314
Alternatively you can contact the ASB Football Academy via LINE ID/phone number 0801694101 or email Coach Simon directly at coachsimon@asb.ac.th 
We hope your child(ren) participates in the football training sessions offered by ASB Football Academy.