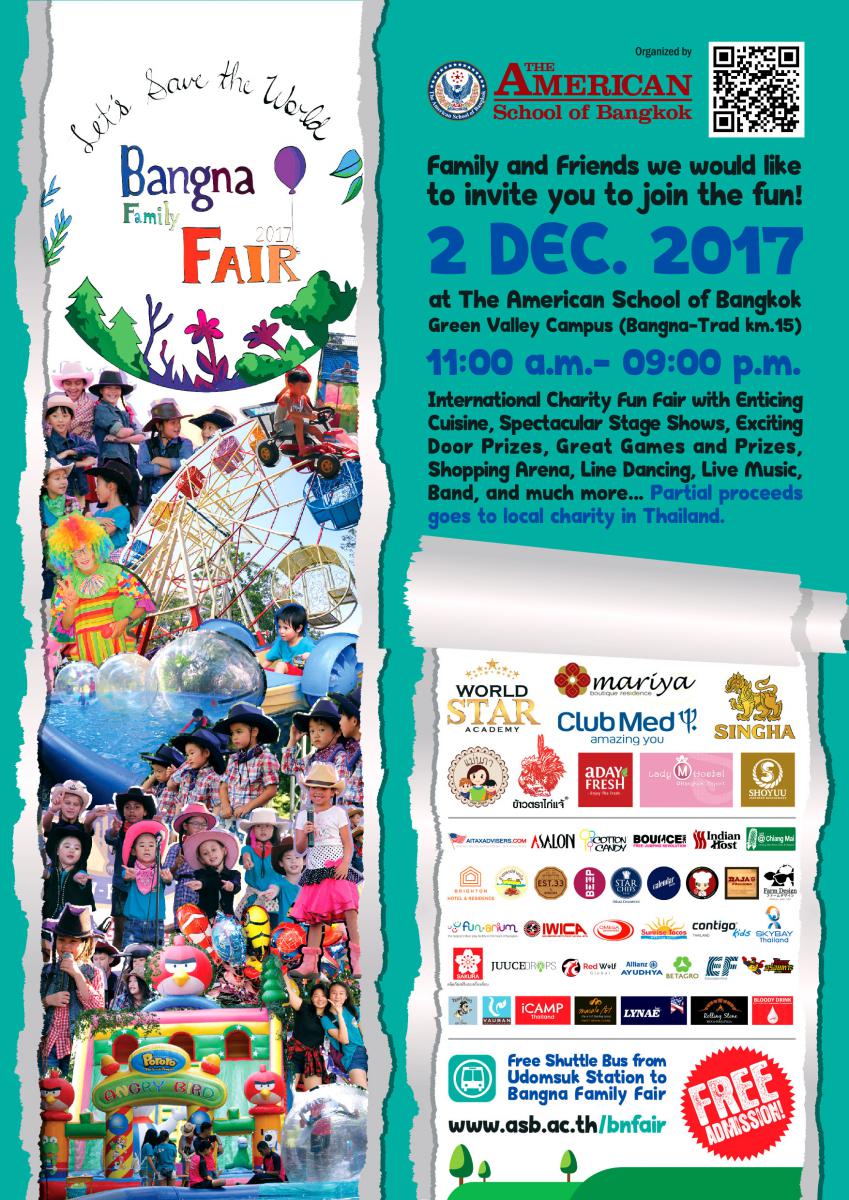 Every year, The American School of Bangkok celebrates cultural diversity, promotes international cohesiveness within our community through the organization of a charitable, fun-filled family fun-fair, to reach out to the greater community to "those who are in need". The net proceeds generated from our prior school fairs have been used to support different causes such as UNICEF; tsunami relief foundations; the Chai Pattana Foundation; the Foundation of Thai Elephant Conservation; the Home for the Blind with Multiple Disabilities at Ram-intra; the provincial schools under the AMCHAM Adopt-a-School programs; the Prostheses Foundation of HRH the Princess Mother; the Green World Foundation; local slums in Bangkok; the medical treatment of patients suffering from leukemia, and refurbishment of housings in Surin, Thailand.
The American School of Bangkok is pleased to announce that we will be organizing the Bangna Family Fair 2017, on Saturday, December 2nd, 2017 at ASB Green Valley Campus (situated on Bangna KM 15 next to the beautiful grounds of the Green Valley Golf Country Club) from 11:00 a.m. – 9:00 p.m.  The event is organized under the theme: Let's Save the World. We hope to promote environmentalism and raise awareness of the necessity and responsibility to respect, protect, and preserve the world we live in. The event will feature spectacular performances by ASB students, teachers and invited guests; a recycled fashion competition; a showcase of student work related to 'going green and being sustainable'; an enticing international cuisine; fun children's games and prizes; an exclusive shopping arena; cartoon mascots; a kid's play zone; a petting zoo; rock mountain climbing; music and live band. The event is open to the general public and the admission to the fair is free. Partial proceeds generated from the Bangna Family Fair 2017 will be forwarded to local charities in Thailand to support green and sustainable projects in the community.
The American School of Bangkok invites you to join hands with us to reach out to the community and make a difference in saving the world. The Bangna Family Fair 2017 will be a truly memorable one to all those who will participate. Sponsorship opportunities are available for the event.
Please contact the following persons for more information about the fair:
Also click into the fair's website: www.asb.ac.th/bnfair