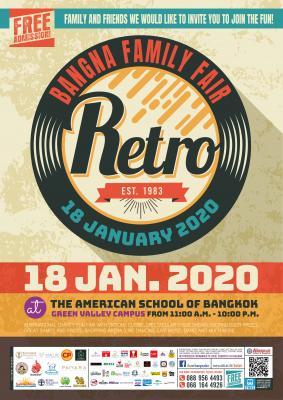 The Bangna Family Fair 2020 will be held on Saturday, January 18th, 2020 at ASB Green Valley Campus from 11:00 a.m. – 10.00 p.m. The theme of the event is "Retro".
The event includes spectacular performances by ASB students (both campuses), teachers and invited guests; an enticing selection of international cuisine; fun children's games and prizes; an exclusive shopping arena; cartoon mascots; a kid's play zone; a petting zoo; music and live bands.
The event is open to the general public and the admission to the fair is free. Partial proceeds generated from the Bangna Family Fair 2020 will be forwarded to Community Learning Center for Development of Humanity Center for Buddha Dhamma Practice and International Charity at Wat Arun Rajawararam.
Sponsorship opportunities are available for the event.
Please contact the following persons for more information: