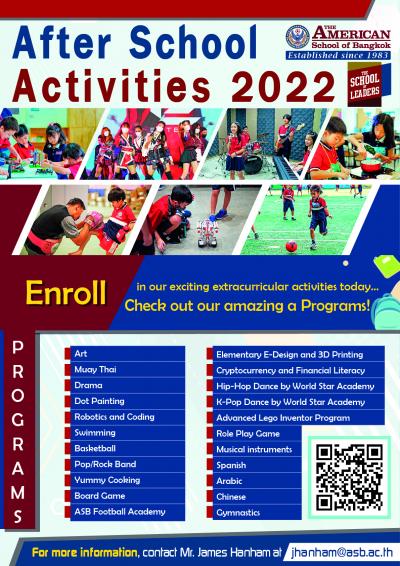 The ASB-SK Campus After-School Activities and Tutorial program for the second semester of the academic year 2021-2022 will run from January 24th   to May 20th, 2022.  Each activity / tutorial session starts at 3: 00 p.m. and ends at 4:00 p.m.  
Here's the link to the After-School Activities and Tutorial program e-catalog which includes the clubs on offer, the days, grade levels available and the cost of each activity for Semester 2:  After School Activity Brochure (Jan - May 2022)
Click HERE to see some of the activities that are offered.
Parents interested in enrolling their child(ren) in the program or tutorial sessions, can complete and submit the online form clicking on the links below.
A form must be completed for each child.
After-school Activities and Sports Offer: https://forms.gle/AGZG1knDoiQjq24Y7
After-School Tutorial Program: https://forms.gle/cceKEv1ixLvqGVB38  
If you have additional queries regarding the After-School Activities program / Tutorial sessions offered at ASB Sukhumvit Campus, please contact Mr. James Hanham at jhanham@asb.ac.th