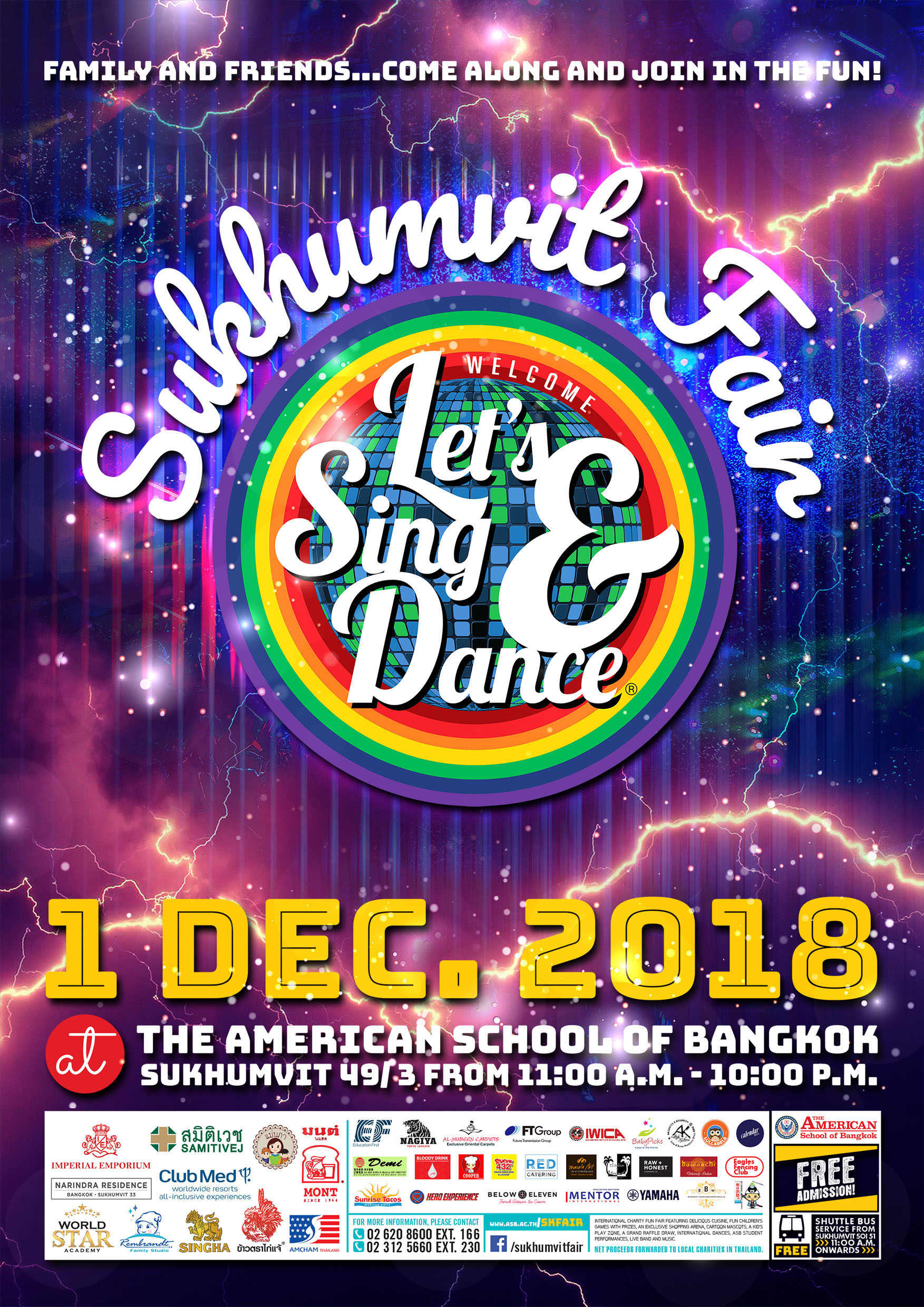 The American School of Bangkok is pleased to announce the Sukhumvit Fair 2018.  Scheduled to take place on Saturday, December 1st 2018 at the ASB Sukhumvit Campus (Soi Sukhumvit 49-3), the fair will run from 11:00 a.m. – 10:00 p.m.
Click on the following links for more information:
Website: www.asb.ac.th/skfair
Facebook: www.facebook.com/sukhumvitfair
VDO link on Youtube: https://youtu.be/s7f4bcS8Y58
Every year, The American School of Bangkok organizes a family fun-fair to celebrate the cultural diversity of our school's community and raise funds for charitable causes. The proceeds from our prior school fairs have supported UNICEF; tsunami relief foundations; the Chai Pattana Foundation; the Foundation of Thai Elephant Conservation; the Home for the Blind with Multiple Disabilities at Ram-intra; the provincial schools under the AMCHAM Adopt-a-School programs; the Prostheses Foundation of HRH the Princess Mother; the Green World Foundation; local slums in Bangkok; the medical treatment of patients suffering from leukemia, and the refurbishment of housings in Surin, Thailand.
The Sukhumvit Fair 2018 will embrace an international dance theme.  The event features delicious cuisine, fun children's games with prizes, an exclusive shopping arena, cartoon mascots, a kid's play zone, a grand raffle draw, international dances, ASB student performances, live band and music. The event is open to the general public and the admission to the fair is free. The net proceeds generated from the fair will be forwarded to local charities in Bangkok, Thailand
The American School of Bangkok invites you to join us in a festive celebration as we raise funds to help local charities in Thailand and make a difference in our community.
An individual, companies, hotels, restaurants, airlines, organizations and embassies are welcome to participate in the Sukhumvit Fair by:
* Donating money and/or prizes for our games booths
* Renting booth space to promote your company product or services
* Advertising on our web site, booklet and flyers
Some of this year's participants include:
AMCHAM Thailand; Asset in City Co.,  Ltd. (Narindra Residence); Boon Rawd Brewery Co., Ltd.; Imperial Emporium Co., Ltd.; Mont Nom Sod; Samitivej Public Company Ltd.; Soonthorntanyasap Co., Ltd. (Mae Napa and Kaijae Rice); Vacancy Siam (Club Med); World Star Network; Rembrandt Family Studio; Al-Mubeen Carpets, ASB Recycling Club, Ash Kickers Foods Co., Ltd., Babypicks Co., Ltd., Bawarchi Indian Restaurant; Below 11 Co., Ltd.; Betagro Public Co., Ltd.; Beyond Beauty and Wellness Corporation Co., Ltd.; Bloody Drink; Calendar Bistro; Champion Toys;  Cooper Steakhouse; CPF Trading Co., Ltd.; Dance Center; Demi Taiwanese Restaurant; Durbell Company Limited; Dutch Mill Co., Ltd.; Eagles Fencing Club; EF Education First; El Sabor de Minburi; Food Machine Service; FT Group (Thailand) Co., Ltd.; Goen Co., Ltd.; Homey Co., Ltd.;  IWICA Chess School; KCG Corporation Co., Ltd.; King Thong Stationery Co., Ltd.  KKS Printing; Little Glam Princess; Malee Enterprise Co. Ltd.; Masala Art; Mentor International; Nagiya Open Dinning (Thailand) Co., Ltd.; Nestlé (Thai) Ltd.; Premium Bedsheet by Khun  Nok; Raw & Honest Company Limited; Red Catering; Shakariki 432"; Siam Makro Public Company Limited; Siam Meat Products Industrial Co., Ltd.; Sino-Pacific Trading (Thailand) Co. Ltd.; ST ART Material Co., Ltd.; Sunrise Tacos Co., Ltd.; Sweet Signature Trading Co., Ltd.; The Marvel Experience Thailand; The Satino; Udomphan Stationery Center Co., Ltd.; Unilever Thai Trading Co., Ltd.; Wararat Music School; Winner Group Enterprise Plc.; Yamaha Music School; and YKH Graphic and Press.
For more information regarding sponsorship opportunities, please contact the following event coordinators: