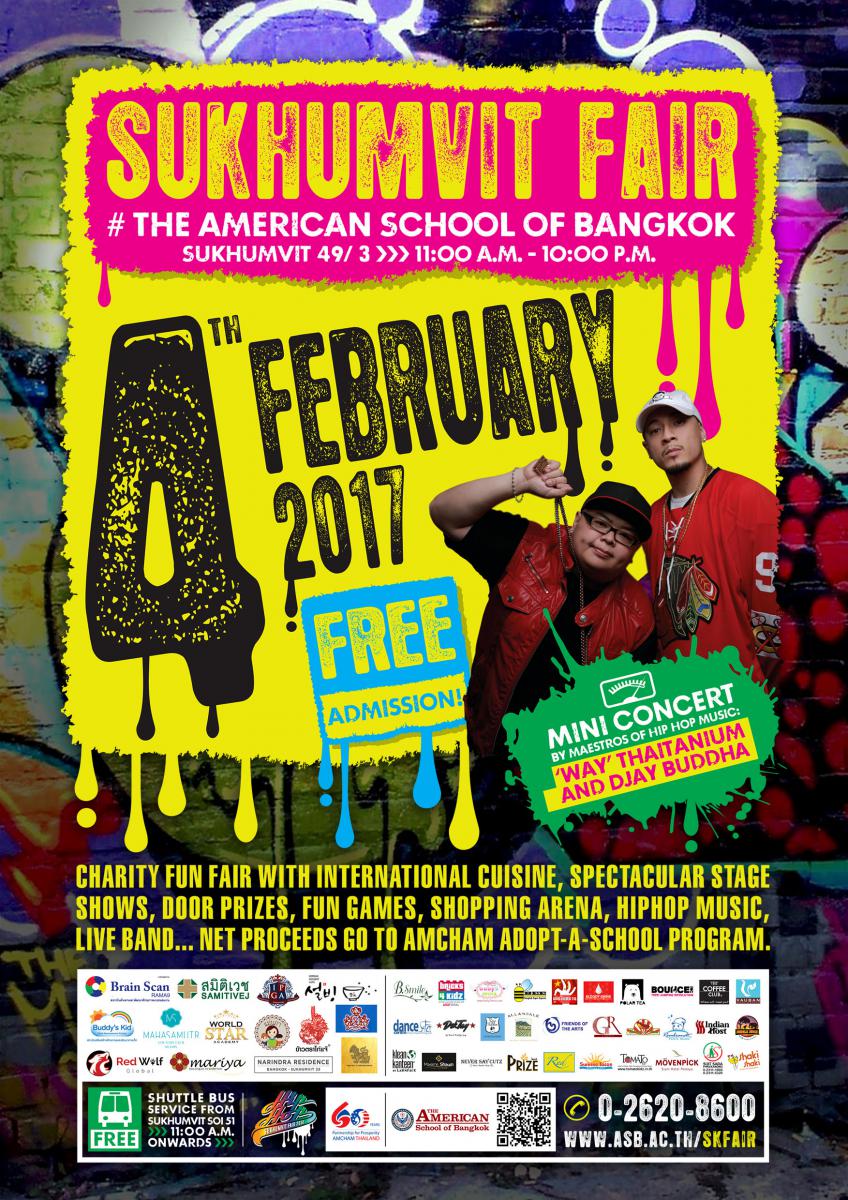 The American School of Bangkok, in cooperation with the American Chamber of Commerce (AMCHAM) Thailand, are pleased to announce the Sukhumvit Fair 2016.  Scheduled to take place on Saturday, February 4th 2017 at the ASB Sukhumvit Campus (Soi Sukhumvit 49-3), the fair will run from 11:00 a.m. – 10:00 p.m.
Every year, The American School of Bangkok organizes a family fun-fair to celebrate the cultural diversity of our school's community and raise funds for charitable causes. The proceeds from our prior school fairs have supported UNICEF; tsunami relief foundations; the Chai Pattana Foundation; the Foundation of Thai Elephant Conservation; the Home for the Blind with Multiple Disabilities at Ram-intra; the provincial schools under the AMCHAM Adopt-a-School programs; the Prostheses Foundation of HRH the Princess Mother; the Green World Foundation; local slums in Bangkok; the medical treatment of patients suffering from leukemia, and the refurbishment of housings in Surin, Thailand.
This year, fair proceeds will be donated to AMCHAM's Adopt-a-School Program to help needy Thai schools construct playgrounds, libraries, water tanks and filtration systems, and other needed facilities for which government funds are limited.
The event will embrace an American hip hop theme and feature international cuisine, fun children's games with prizes, an exclusive shopping arena, cartoon mascots, a kid's play zone, a grand raffle draw, hip hop dances, ASB student performances, and live music. The event is open to the general public and the admission is free.
The American School of Bangkok and AMCHAM invite you to join us in a festive celebration as we raise funds to help the Adopt-a-School Program and make a difference in our community.
An individual, companies, hotels, restaurants, airlines, organizations and embassies are welcome to participate in the Sukhumvit Fair by:
* Donating money and/or prizes for our games booths
* Renting booth space to promote your company product or services
* Advertising on our web site, booklet and flyers
Some of this year's participants include:
Asset in City Co., Ltd. (Narindra Residence); Boon Rawd Brewery Co., Ltd.; Buddy's Kid Center & Brain Scan; Imperial Emporium Co., Ltd.; Mahasamutr Country Club; Mariya Boutique Residence; Red Wolf Global Co.,Ltd.; Samitivej Public Company Ltd.; Sulbing Korean Café; The American Chamber of Thailand (AMCHAM); World Star Academy; B Smile Healthy & Beauty Station; Baby 2 Mins; Bangkok Expat Exports; Beauty of Yuan; Bloody Drink; Bounce Inc.; Bricks4Kidz; Chicken Wings by Mrs. Smith; Coffee Club; DeK Tay; Duc De Praslin Belgium; Eikou Trading; GR Carpet; Havaianas and Petit Bateau; Hotdogs & Buns; Jungle Juice;  Korean Parents' Union; Koriwajiro; Lab Space; Madame Shawn; Never say Cutz; Polar Bear; Prize Snack; Red Catering; Rembrandt Family Studio; Shaki Shaki; Sunrise Tacos; Tomato Kidz; Vauban Real Estate; Dance Center; and Kids Toys
Contact the following event coordinators regarding sponsorship opportunities:
For more information about the fair, click into www.asb.ac.th/skfair