Thank you for your interest in working at The American School of Bangkok Sukhumvit Campus.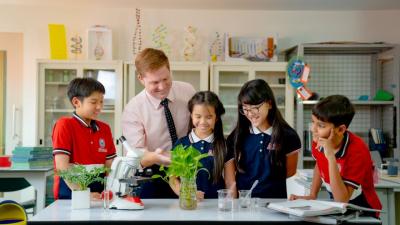 We strive to hire educators and personnel who are passionate about teaching, are highly qualified individuals who are innovative and creative, believe in student-centered learning, have a strong commitment to their profession, and have a strong track record of teaching success.
The American School of Bangkok Sukhumvit Campus is also strongly committed to the safeguarding of all of its students. It is the responsibility of all candidates who apply to our school to familiarize themselves with the school's Comprehensive Child Protection and Safeguarding Policy and Procedures.
All applicants to the school are required to provide accurate and detailed information about their employment history, including any aspects of their past or profile that could affect the reputation of ASB or the wellbeing of our community. ASB also conducts background checks on all successful candidates.
Teaching Vacancies (Last updated February 2, 2022)
The American School of Bangkok Sukhumvit Campus is seeking qualified educators to fill the roles of the following positions in the next academic year 2022-23. 
Nursery / Kindergarten Teacher
High School Mathematics Teacher
Design and Technology Teacher
Applicants must have at least a Bachelor's Degree in Education and be fully certified in the field to which they are applying. Applicants must be a native speaker of English from a country where English is the native language. If you have experience in the above areas, and have the potential and energy to be a part of our team, we look forward to hearing from you.
Interested candidates should email a letter of interest, resume with recent professional photograph, contact information for three references, and a copy of a valid teaching license to employment@asb.ac.th 
Non-Teaching Vacancies (Last updated February 2, 2022)
If you would like to be considered for a staff position at our school please email your curriculum vitae (CV) or resume and an application letter to the Human Resources Department at info@asb.ac.th