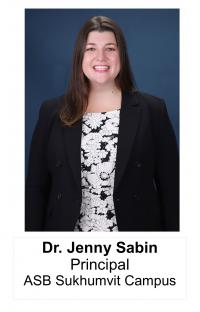 Warm Greetings to all our ASB Families,
It is my pleasure to welcome each student and family to the 2021-22 academic year. Welcome to the more than 50 new students and their families who are joining our ASB community. Although we will begin the school year virtual in August, we want everyone to feel welcome and connected! Through regular communication and an open door (and open email inbox), we will partner together to continue the learning and growth of our students.
With the start of another academic year, we are focused on students continuing to grow as adaptable and resilient leaders, mindful global citizens, effective communicators, independent and collaborative learners, critical thinkers and creative problem solvers, and technology innovators. Our Learner Attributes are more than a poster on the walk or talking points, our teachers are caring professionals who seamlessly integrate these into our lessons and interactions with students.
Last school year, I joined our school as the Vice Principal for Academics and worked together with our staff and families to build relationships and a strong academic program. Along with me, I brought my two school-aged children Eli and Penny who have flourished in such an encouraging environment. This year as the Principal for the Sukhumvit ASB campus, I am proud to continue the academic work with our Leadership Team while growing our school in many ways.
A special thank you to our parents, guardians, and caregivers for the strong partnership that is a hallmark of the quality program we have here at ASB. Virtual Learning holds a magnifying glass to that partnership and in starting the year remotely, we appreciate all the support you are giving at home. Along with our staff, I am excited to begin this new school year and learning adventures together!
Thank you for your partnership and here's to a fantastic year ahead,
Warm Regards,
Dr. Jenny Sabin
Principal, ASB Sukhumvit Campus
jsabin@asb.ac.th